Enjoying back country roads in a thrilling MINI Cooper Hardtop or taking your MINI Countryman for a weekend camping trip are experiences to savor. However, without proper maintenance, your cherished driving experience won't last as long as you'd like. At MINI of Bedford, we are here to help make sure that when you drive off in a pre-owned or new MINI vehicle, that you get the most out of your experience. That's why we offer expert MINI service that you can count on at our MINI dealership serving Merrimack, NH.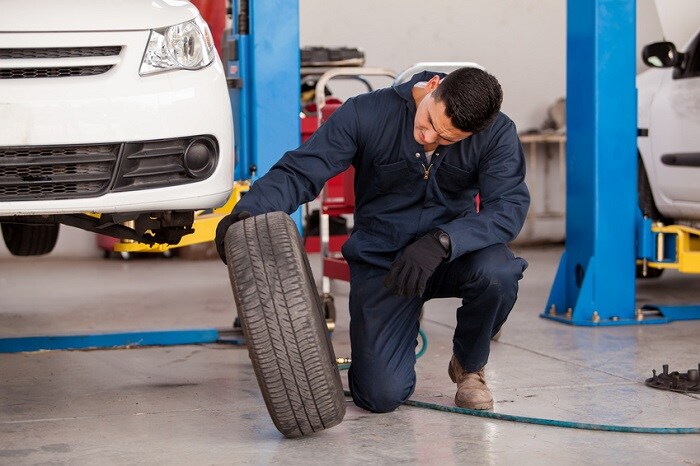 Why Tire Service is Important
Without your tires, you wouldn't get too far on the road. This vital component of your vehicle is one of the many essential parts of your car that allows you to enjoy your unique driving experience every day. That being said, it's incredibly important that you do everything you can to protect your tires. Over time, the tread on your tires wears down, reducing your grip on the road and potentially putting you at risk for getting a flat. So not only will neglecting your tires diminish your car's driving while putting you in an inconvenient situation, but it also ends up compromising your safety.
Plus, having tires that grip well means that your car's engine isn't working as hard to propel you forward. This means that you get better fuel economy when your tires are in great shape. You also want to make sure that your tires are inflated to the recommended air pressure to maximize your safety, ride feel, and fuel efficiency. These are all services our technicians can provide guidance about at our New Hampshire BMW dealership.
Tire Services We Offer
When you bring your vehicle over to our MINI service center near Nashua, we will be sure to take great care of your tires. We will check to make sure your tires all have plenty of air and are at the recommended tire pressure level. We can also check to see if there are any holes, which we can often fix. We will also look at your tread level to see if your tires need to be replaced. In the event you need new tires, we can find just the right tires for your vehicle at our MINI tire center to keep your car driving smoothly and performing well. Rotating your tires roughly every 5,000 to 8,000 miles can help your tires wear evenly over time, which we can also do at our service center.

Visit or contact your Bedford, NH, MINI Cooper dealer today to learn more about available MINI service specials and to how we can improve your driving experience.